Features
Companies using Rocket Referrals have increased referrals from 3 - 9X.
Find & engage top promoters
Identify your top promoters and convert them into raving ambassadors. We send the right message at the right time to get the most out of your loyal clients.
What's more, find unhappy clients that could be turning new business away from you and turn them into your top promoters.
Determine your "Net Promoter Score"
Find and eliminate 'detractors'
Quickly view the value of your top promoters
Keep your promoters promoting
Increase your insight
Segment your clients based on their loyalty to your company. Discover what your clients think about you, identify trends, and resolve negative feedback.
Stop detractors in their tracks
In some cases detractors could be taking business away or referring others to a competitor. We'll help you identify those people so you can help them move on, or fix their issue.
Ideal communication ideal timing
Mass communication is not in our vocabulary. Every touchpoint is personalized and relevant. We elevate relationships with targeted email and handwritten cards so your clients keep smiling.
Coordinated communication for each client
Combine email and handwritten cards
Prewritten content
Birthday, welcome, follow-up and custom cards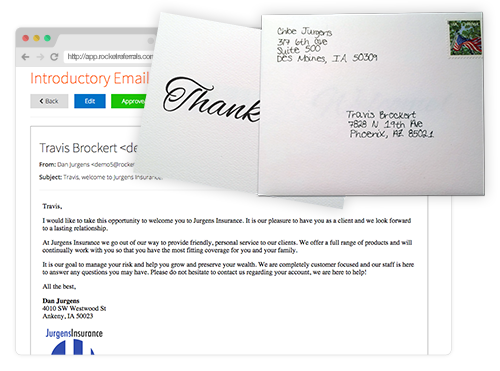 Reach clients on a personalized level
Say goodbye to bulk emails. We reach your clients with entirely personal and highly meaningful communication.
Never miss an opportunity
We reach out to your clients regularly so you never miss out on another referral while dramatically increasing your retention.
Easy reviews & testimonials
We know how to get your promoters talking. Have testimonials and reviews posted directly to Facebook, Google, Yelp or directly to your website.
People who give a testimonial are 5 – 7x more likely to refer
Improve your reputation on sites like Google, Yelp and Facebook
Stream reviews directly to your website
Improve online social reputation
Boost your online reputation without lifting a finger. We'll encourage your best promoters to promote you online.
Reach new prospects
Testimonials and positive reviews posted to social networks bring prospects directly to your door.
Handwritten cards done for you
Your clients will not only open these cards, but will also thank you for them later. Best of all, you don't have to do any of the hard work. We've got that covered.
Premium quality Mohawk card stock
Schedule cards to be delivered at any date
Include gift cards redeemable at over 40 retailers
Use your own handwriting
Stand out from competition
Break through the noise by reaching your clients on a highly personal and meaningful level.
Build positive relationships
Deliver a positive message with a clean and tasteful layout. They will think it came straight from your desk.
Improve retention and cross sales
The number one reason clients end up leaving is because companies often fail to communicate with them regularly and in a meaningful way. We stop the bleeding and inspire cross sales by making your clients feel loved.
Uncover unhappy clients
We automatically identify unhappy clients and let you know why they are upset, so that you can turn their frown around.
Educate clients
Most clients are simply not aware of all the products and services you offer. We fix this and encourage them to buy more.
Smart setup and prewritten content
Getting started and managing your account is super simple and intuitive. We designed a system that makes your job easier and your clients happier.
Send the right message
Forget straining your brain to find the perfect message to send your clients. Our industry experts have thought of everything for you.
Spend your time elsewhere
We are the only automated system available that is ready to go out of the box. We've already thought through all the hard stuff so you get the best results straight away.